Wednesday, April 30, 2003
Don't Bother With The Reading Glasses
Yesterday I decided to switch to a larger, easier-to-read font for this blog; it's now a
size-2 Georgia/Garamond/Serif
without justified alignment, which seems to be much easier on the eyes. A size-1 Georgia is too small and serif-y for any but the lowest resolution screens, but I find the size-2 makes for pleasing boldface and italic script. I hope you find the change a positive one as well?
Maybe it's just me, but that size-1 Verdana I used (and which I used to like on so many other blogs) was starting to give me a headache. Next project: figuring out how to use Cascading Style Sheets. These days, only dinosaurs like me don't use them yet.
Here's a link worth a chuckle or two,
The Chortler's Spanglés Lesson Number 1
:
El Presidente Jorge Bush
speaks with
Condoleeza Rice
.
---
Tuesday, April 29, 2003
Good Things Come To Those Who Wait...Even If It's 20 Years
When I was in my teens and early 20's I was a huge fan of the
Runaways
and
Joan Jett
.
They were the bomb. In my 16-year old eyes, they were chicks my age who apparently had the
cojones
to tell the establishment to f*** off, and break the boundaries of common conservative housefrau sensibility with pulsing hard rock-n-roll that could drive a kid like me to distraction
heh, heh
.
Don't get me wrong; I make no apologies for my teenage naivete. After all, it's one of the onion-layers of my current self - without which, I'd be a layer or so less interesting.
You see, I've been waiting for the release of this long-in-the-works film project for a couple of years now:
Victory Tischler-Blue
, a former Runaways bassist who's now an independent California filmmaker has created a critically-acclaimed-prior-to-its-release biopic of this girl band that changed the rules...or at least
broke
most of the them. Never mind that artists like
Lil' Kim
,
Missy "Misdemeanor" Elliot
or
Pink
put their wild ways to shame in the two-double-oh-trey; but my, these are different times in which we live in. We're talking about
pioneers
.
Sacred Dogs Entertainment
is slated to release
Edgeplay
sometime in 2003, as well as
Naked Under Leather
, a biopic in the works on the groundbreaking rocker who influenced Joan Jett in the early 1970's,
Suzi Quatro
. Suzi's still alive and well and rocking in the UK...and she's got a
BBC radio show
you can listen to online.
The Runaways movie, a Suzi Quatro movie,
and
the new
Exorcist
prequel? Oh, man...whatta died-and-gone-to-heaven movie year for yours truly!
FilmThreat.com has a
four-part interview
with Victory Tischler-Blue on the making of
Edgeplay
. In her 2003 interview with
Chris Parcellin
, she says,
"The subject of The Runaways, for most of our parents, is a tough one, because just on a very base level, it required our parents to trust blindly people they didn't know and, in all honesty, didn't really want to know. It required our parents to let go of their teenaged girls and allow them to travel around the world, virtually unchaperoned, with a bunch of strangers. It required our parents to block out what their minds were screaming and listen only to their hearts – and that was to let us all go and realize our ambitions."
On one of the former Runaways - ironically the one most commercially successful today - who reportedly stonewalled the project repeatedly,
"For any artist, the greatest gifts are the freedom of speech and the ability to create. For another artist, especially one who has benefited so much from those freedoms, to set out to deliberately compromise, interfere with and block someone else's right of freedom of expression by bullying and threatening nuisance lawsuits because that artist can afford to, makes me sick."
Problem was, back then in the 80's I didn't see or understand the behind-the-scenes manipulation the band members had to undergo at the hands of an unscrupulous manager, and just how little real empowerment came with the sound and fury. Thankfully, things are often different now, almost 30 years later. I heartily recommend this interview; it's an eye-opener.
Frankly, I think all the Machiavellian bullsh*te she's had to wade through to make this movie - from former bandmembers to ex-manager
Kim Fowley
himself - is a "high-boot" mark, even for the
entertainment industry
. You have to give this woman a ton of credit for making
Edgeplay
happen at all. I, for one, can't wait to plunk down my money to see it.
Note to Victory
- you go, girl, all the way. Do
not
let anybody get in the way of letting your voice and vision be heard. When the lights go down and the chairs are on the tables, the only way an artist's soul rests is when its will is done.
(P.S.) I can not wait to see what wild search terms lead surfers to
farkleberries
after this posting...
---
Home Alive
From Evanston, Illinois, just a hop north of my apartment, comes
a surprising news development
. A 6-year old named "Eli Quick," who was brought to St. Francis Hospital by a man claiming to be his father (who subsequently disappeared) may turn out to be
Tristen "Buddy" Myers
, a North Carolina boy missing from his home since 2000.
from CNN: "On February 3, a man walked into an Evanston hospital with a boy who he said was his son. The man said he wanted the boy evaluated for "aggressive behavior," said Jill Manuel of the Illinois Department of Children and Family Services.

Hospital workers saw that the boy, between 6 and 8 years old, was dirty and "obviously had not bathed or changed clothes in days," Manuel said. The man also threatened to leave the boy at the hospital, prompting workers to report the situation to a Department of Children and Family Services hotline. Police were called and discovered a warrant was out for the man's arrest on a retail theft charge. He was taken into custody, and the boy was placed in a foster home, Manuel said.
Authorities are awaiting the results of DNA tests to confirm the child's identity.
It's been over two years since Tristen Myers was reported missing...that's a long time in the life of a child who was a pre-schooler when he went missing from his Roseboro, NC, backyard. But if authorities don't find the man who brought him to St. Francis back in February, the sad truth is we may never know the real story behind "Buddy's" disappearance.
---
Monday, April 28, 2003
To be perfectly honest, I've never watched the
Hello Kitty
animated series; but I'm simply flabbergasted by the mindboggling range of merchandise
Sanrio
has managed to whip up based on this little white creature that looks like a marshmallow Peep.
Hello Kitty is everywhere.
She's no spring chicken...or is that spring
kitten
...she's been around since 1974, the year Richard Nixon resigned and India conducted her first nuclear test. Coincidence? Perhaps.
Even Santa Claus doesn't have as many domestic uses, and he's just a seasonal character. At the risk of inflaming the pious masses who burned Beatles albums by the gross after John Lennon's ill-fated boast, one could say
Hello Kitty
is more popular that Jesus.
Here's what I mean. You can buy
Hello Kitty
golf clubs, microwave ovens, underwear, sandwich irons (!), baby silverware, cellphone covers, toothbrushes (manual and electric), adhesive bandages, adult novelties (I kid you not), handbags, shoes...I could fill
pages
.
This list doesn't include the myriad incarnations of
Hello Kitty
wearing different clothes and accessories, and her dozens of auxiliary marketing tools -
er
- friends.
Granted the majority of
Hello Kitty
products are sold to pre-teen girls, harried mothers, hip middle-aged women - and of course gay men, but you're talking about a segment of the population that tends to have plenty of discretionary income. As an ex-writer of TV commercials, I am utterly in awe of whichever marketing genius managed to keep the Kitty cash rolling in for so long. My hat's off to you!
Let's psychologically analyze the benevolent, mouthless (and thereby lacking a posterior orifice?) being that is
Hello Kitty
.
One could say she is the
yin
archetype to the
yang
of overbearing modern metallic masculinity. Our heroine is the anti-GI-Joe, the anti-Hulk...the anti-Goliath and the anti-Osama Bin Laden. No one ever put
Hello Kitty's
face on the nacelle of a B-52 bomber, on the casing of a nuclear warhead, or on a M1 Abrams tank. At least not to my knowledge.
soft white bright kitten
mouthless; tells no lies. Yet she
makes filthy green cash
Sanrio Say:
Make Kitty, not War
.
---
Saturday, April 26, 2003
Hidden Monsters in the Midst
Those of you that read
farkleberries
know that crime and punishment are a frequent theme, but I hadn't taken the time yet to post about one the biggest cases in the headlines - the
Scott Peterson murder case
. What Peterson is accused of doing - murdering and decapitating his very pregnant wife around last Christmas Eve, then dumping her body (and that of their unborn son, Connor) in the San Francisco Bay where the bodies would wash ashore months later - is so monstrous and repulsive it defies reason.
The case is such a tangled web that it will take an O.J. Simpson-style trial to sort out the details.
What I find so confusing and disturbing is Scott Peterson's on-camera sangfroid. So far he's acted a lot more like a featured star on "Lives of the Rich and Famous" than a grieving husband and father-to-be, and in interviews with Diane Sawyer he seems almost too calm and too glib to believe. On Thursday night's ABC News special, I thought I caught a glimpse of a smile on his face when Sawyer questioned him on the details of the night Laci disappeared.
It may have been the half-grimace of a man trying valiantly to suppress tears; but why suppress tears when you've lost your family, the world is watching, whispers say you are a prime suspect, and you're being judged by a television audience of millions?
Scott Peterson's family seems unanimous in their belief that he is a truly good man, utterly incapable of the crime he is accused of - at least, they are showing a unified front to the cameras. What's true is that right now the prosecution's case
is
mainly circumstantial, and it will be hard to develop a clear-cut case against Scoot. Even in modern-day criminology, where DNA testing can identify and match biological material to within a miniscule fraction of total certainty, the fact is that Laci was Peterson's wife, so her DNA and physical evidence will be found scattered widely all over the crime scenes.
In Peterson's exclusive interview with Sawyer, he said:
"Violence towards women is unapproachable...it is the most disgusting act, to me."
If the case bears out that Scott Peterson did indeed kill his wife and son, then the most disturbing thing about this case isn't that committed the crime. It's that he managed to conceal this murderous potential so seamlessly for so many years - from his family, friends and acquaintances, his wife - from just about everyone around him.
---
Friday, April 25, 2003
If Der Gutvik Is Rocking, Don't Come-a Knocking
I can see how this would be embarrassing for the squeaky-clean prefab furniture moguls at
IKEA
:
From Ananova: "Ikea has apologised after accidentally naming a child's bunk bed after an obscene German expression. The Swedish firm didn't realise the problem until after the £110 bed went on sale across Europe. The wooden bed is called the "Gutvik" which means "Good f***" in German. (If you've taken high-school German, you know the letter v is pronounced f, which etymologically explains a lot)

But the Swedish firm's adverts for the bed were hastily withdrawn from windows and papers after it was pointed out to bosses what the words meant in German. IKEA spokesman Sabine Nold, 40, said: "Yes, we do have a bed of this name that is on offer in our stores at the moment.

"It is the name of a tiny Swedish town. We did not realise that it could also be taken as something obscene."
What I'd like to know, is why they named a Swedish town that way in the first place?
---
Chicago's Monster of the Midway
A few weeks ago I mentioned
that new book out by
Erik Larson
,
Devil in The White City
. Well, now there's a documentary on out on DVD - "
H. H. Holmes: America's First Serial Killer
" by
John Borowski
. Looks creepy and interesting...thanks for the heads-up (or is that heads-
roll
?),
Rabbitgirl
.
---
Florida Strikes Down "Scarlet Letter Law"
It's about time. Florida's Fourth District Court of Appeals Wednesday struck down the state's infamous "Scarlet Letter Law." From
CNN
:
The court...said the state failed to show how the rights of the father or the state could outweigh the privacy rights of the mother and child "in not being identified in such a personal, intimate and intrusive manner."

"It subjected women to public humiliation and harassment for no benefit," said Mariann Wang, an attorney with the ACLU Reproductive Freedom Project. The law required a mother who wanted to put her child up for adoption to take out newspaper advertisements listing her name, age and description, and the descriptions of any men who could have been the father. The ads had to run once a week for a month in any city where the child was believed to be conceived.
I'm glad to see some level-headed people finally saw through this "law" that seemed like something straight out of the 18th Century. Unbelievably, this 2001 statute actually
required women who were victims of rape or sexual assault to publish the details of the incident in newspapers (including the incident date(s), and their names), in case the "father" chose to claim his parental rights to the child
.
A revised bill is expected to establish a database where potential fathers can register their infomation, and thereby claim paternal rights should a child they fathered go up for adoption. From
UPI
:
The revised bill is making its way through the Florida Legislature. It is headed for a vote on the floor of the House but has two more committees to clear before it reaches the full Senate. Sponsors of the original bill said it was intended to improve the adoption process. They said the advertisement requirement was not designed to punish women, but to make sure fathers had a chance to know about their children before they are adopted. But officials involved in adoptions said the newspaper provision caused some women to cancel the adoptions rather than face public humiliation.

"Mothers who found out early enough were actually having abortions," said Angela Quick of the Family Support Center in Port Orange. A Palm Beach County attorney challenged the law on behalf of six women, including a 12-year-old rape victim. The judge ruled that rape victims do not have to advertise, but that only applies in Palm Beach County. State Sen. Lynn Ormond, R-Ormond Beach, sponsored both the revision in the Senate and the original bill when she was a House member.
Of course, a person might wonder about the parental suitability of a man who waits until he sees his name in the "baby for adoption - possible fathers listed" section of a newspaper to come forward.
There. Now maybe I'll stop boycotting Florida orange juice; the old 1970's Anita Bryant flap was bad enough before the last Presidential election and this boondoggle happened.
---
Thursday, April 24, 2003
James Lileks, Where Are you?
When I clicked my
www.lileks.com
blogrolling
link this morning to read the daily
Bleat
, I wasn't greeted by the site's usual retropsycho graphics and sardonic wit.
Instead, the browser opened on a idiotically cheerful "
Future Home of a Dotster Registered Domain
!" splash page. James! Did you forget to pay your domain regisration fee?
Bleat
addicts are jonesing as we speak!
---
Wednesday, April 23, 2003
Directions: Open Mouth, Insert Foot, Brush Vigorously
It's not that I'm particularly
surprised
by Republican
Senator Rick Santorum's
(PA) recent anti-gay comments, prompted by Texas' ongoing Supreme Court case regarding sodomy laws:
[AP, 4/21/03] "If the Supreme Court says that you have the right to consensual (gay) sex within your home, then you have the right to bigamy, you have the right to polygamy, you have the right to incest, you have the right to adultery. You have the right to anything."
...but this isn't just another example of backwater prejudice, it's just plain bad logic.
It's along the same lines as arguing that allowing people to eat meat is tantamount to promoting cannibalism.
Now, I'm sure there are some hard-core animal rights folks who might agree with that last comment, but that's hardly the mainstream of American sentiment.
Sodomy laws
have been in effect in many states for well over a century (or two, perhaps three). But while they've been on the books since great-great-great-grandpappy's time, one of the most odious things about them is the fact they're almost always
selectively enforced
.
What does "sodomy" mean? A lot of people think that sodomy laws are aimed strictly at male-to-male sexuality, but
the traditional legal definitition of sodomy in many jurisdictions
is
any non-procreative sexual act
. I'm sure it will come as no surprise that even heterosexual folks have been known to transgress that boundary occasionally.
Sodomy laws are a "penalty of convenience" that a prosecutor is free to invoke when it suits them, because they are almost never used to regulate heterosexual "violations" even though that is clearly within their scope.
Rather, they are used as a legal form of discrimination against gay and lesbian individuals in court cases involving primarily nonsexual matters such as employment, property or adoption cases. Sodomy laws are often pulled out as a "wild card" in court to sway legal cases against gay people...as in: "Of course we have to (a) take this person's children away, (b) fire this person, (c) Nullify this will.
Why?
Because they're criminals! They commit the crime of sodomy in their homes
!"
Of course, if you agree with these laws my argument probably won't change your mind. But looking at the matter in legal terms, how far do you think we should allow the government's (and the law's) reach to regulate and criminalize the details of our daily lives? Our personal records and credit histories? The workplace? Public parks and accomodations? The Internet and e-mail?
How far? If you ask me, I think the bedroom door is as good a place as any to draw the line.
By the way, I appreciate
The Bleat's
take on the issue:
"Santorum's remarks are not a recipe for electoral success in the 21st century. Things are balanced right now - a Democratic presidential candidate who insists that the Statue of Liberty's mannish features prove she's an example of transgendered statuary will find no national sympathy.

And a Republican who seems inordinately bothered by the fact that police can't kick down a door and taser lesbians for snoring in a common bed - well, he's toast, too. But the Democrats only need to be silent to win this issue. They win it just by being Democrats. Republicans lose the issue by raising it.

Come out with guns blazing, demand that the Supreme Court slam their big gilded gavel down on the very concept of sodomy, and they run the risk that people will go to the dictionary, look up the word, and say: I ain't giving up that for a capital gains tax cut. Not on this or any other six planets."
---
Tuesday, April 22, 2003
I'll Have Whatever The Peacock's Smoking
Just when you thought prime time had permanently mired in the bilgey soup of reality-TV, an NBC executive has come up with a concept that blows "American Idol" and "Jackass" out of the water. From the
Philadelphia Gay News
:
According to a report in entertainment industry publication Variety, the Peacock network has plans to continue its "Must See" success with a prime time computer-generated animation series featuring a family of white lions who work as performers in the Las Vegas "Siegfried and Roy" show. Yikes. The network has given the series, tentatively titled "Father of the Pride," a 13-episode commitment for 2004 thanks to a personal pitch by DreamWorks partner Jeffrey Katzenberg. Katzenberg told Variety that the idea for the comedy, which will feature "Shrek"-like animation, came to him while watching Seigfried and Roy perform for 'probably the 10th time.'

It sounds like Seigfried and Roy might want to file a restraining order.

'I was sitting there watching the show, and when all the lions came out, I thought, What must they be thinking right now? And what if we saw the world through their eyes?"' Katzenberg said.
Sounds like a sure-fire hit with the over-70 Florida tanning-bed crowd.
---
What a Fun Guy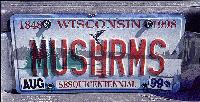 While browsing author
Neil Gaiman's blog
, I came upon this link, to University of Wisconsin-LaCrosse professor
Tom Volk's Fungi page
.
The man knows his 'shrooms: you can browse the
Fungus of The Month
(wait'll you see the centerfolds),
Fun With Puffballs
(who'd have though they'd be a boon to the gluteally-challenged?), or his many other mycologically-delicious pages within. Huzzah!
Frankly, the giant
Calvatia puffballs
give me the creeps, even though they're reputed to be very tasty...I'd try them once, but as cartoonist
Bob Kliban
(who must undoubtedly have been a huge influence on "Far Side"
Gary Larson
, one of my faves) once noted, "Never Eat Anything Bigger Than Your Head."
---
Monday, April 21, 2003
Archaeologists Find Ancient Village In Illinois
This is potentially a very interesting discovery - the ruins of an ancient village dating back to 600 to 800 A.D. were found recently during a fill-dirt dig near Damiansville, Illinois, about 35 miles east of St. Louis. This is just a short distance east of the
Cahokia Mounds National historic site in Collinsville
, location of a historic native American civilization that "disappeared" over one thousand years ago. I've been to Cahokia once, but I would love to return and explore the park in more detail...there is a delightful sense of age and history there, a special 'spirit' to the place that is hard to describe.
What struck me most when I saw the items found at Cahokia is their unusual resemblance to Mesoamerican art, similar to the Mayan or Atzec peoples'. If you look closely at the Birdman Tablet, one of Cahokia's most famous artifacts, you can see the striking similarities - the distinctively curved facial profile, the anthropomorphic bird/man/god imagery - that seem to be influenced by the ancient deities of Central America.
I'm curious to see what secrets will be uncovered at this new archeological site...I'll keep you posted.
---
Search Me
I really get a kick out of the bizarre and ridiculous combinations of words people sometimes type into search engines - that lead to my pages! The phrases below are all actual search parameters that have led people to my website (thanks to
Jonno.com's
"come to me" sidebar feature for the inspiration)...it's not that I necessarily have content that matches the full search term, but somewhere on an indexed webpage, the individual words appear in some permutation.
There's the
merely strange:
Barbecue cartoon squirrels
Fancy iron grill alphabets
Cornell sunshine
Breads by Brother Victor-Antoine D'Avila Latourette
Using ammonia to get rid of squirrels
Cook ham overnight
Scully is abducted by a lunatic
Captain Howdy's number
Squirrels in dryer vent
Shag carpet remnants
...and then there's the
downright scary
:
Enlarge wasp penis
Small body meat pieces
Male POW rape
Ooooo...kayyyyy...? Let's just say I'm glad I didn't meet these folks in a dark alley.
---
Saturday, April 19, 2003
Old Gold, part 2 - and The End Of The World?
Now I remember where I originally saw the Aztec gold skull mask: it was in one of
Erich Von Daniken's Chariots of the Gods?
books from the 1970's. If you look carefully at the design on the "lapels" of the mask, there are two depictions of faces in profile, composed of a number of geometric lines and angles. Also, there are numerous doughnut-shaped circular forms in the same area that resemble the solder pads for electronic components on a printed circuit board.
I remember that Von Daniken suggested that the designs on the base of the mask were actually an ancient form of "printed circuit"! Quite a stretch, but hey, you never know. I wonder what ever happened to Erich. I think his material was eventually
debunked
or just lost popularity (notice how there aren't as many shows or popular culture references to UFO's as there were a few years ago?). Anyway, that's where my interest in things paranormal comes from. The early 70's. Surprise.
Remember a feature film that came out roughly around 1976 called
The Late Great Planet Earth?
I remember seeing it in the local $1 second-run strip mall theater as a kid, and being disappointed when I realized it wasn't really about aliens and the supernatural, but rather a film version of apocalyptic Bible verse set to all sorts of odd film film footage..."the end is near!"
Isn't it funny how we've (the Human Race, that is) been talking about the End of the World for thousands of years, convinced it will happen during our lifetimes? If you've followed the popularity of the
Left Behind
book and movie series (which deals with the Apocalypse and the Rapture, when "elect souls" will rise to Heaven, leaving just empty spots in their stead...and the rest of will be...ahem, "Left Behind")
Hey, everyone's entitled to their beliefs, but hey, I'm more worried about the price of gasoline, SARS, suitcase nukes (that would be great name for a rock band..."
The Suitcase Nukes
") and my rent going up than whether half the people around me will suddenly disappear, leaving me and the rest of us "sinners" to face Old Nick ourselves.
Maybe it is the End of the World, but what if it's on a geologic timescale of trillions of years? Maybe we have an innate species death wish, because every civilization has ended at one point or another, but we are starting to mature past the adolescent "immortality" phase, thinking our culture will be the one to survive for all time. Maybe we just know we're sucking the life out of our planet with unrestrained consumption that can't go on forever, and we'll have to start building solar energy generation systems (and we will one day become a Sun-worshipping society once again, the Giver of life and electricity?) or windmill farms, when all our wars to conquer oil lead to dry holes in the ground? Will that be our "End of the World"?
Maybe we
all
want to believe
our
generation is special, and the likes of us will never come again...and someday, some culture will look at the things we left behind, and wonder whether those boxes with cards that contained patterns with holes were really electronic circuits.
"Naah. A culture like that couldn't have been that advanced. After all, didn't they sacrifice one another? Weren't they too primitive of a race to have developed something that sophisticated?"
Just a thought on this Easter Weekend.
---
Friday, April 18, 2003
Old Gold
Well, the inspiration for the new page layout is
Ancient Mexico
; it's the topic of my upcoming Spanish class presentation at Loyola because I've been fascinated by the Aztec and Mayan cultures since childhood.
At Princet
on University
(we lived near there until I was about 14), there was an art museum on campus with a
delightful collection of pre-Columbian artifacts
that I
absolutely loved
; I'll have to try to find some Mesoamerican antiquities on display here in Chicago.
The golden skull mask on the left sidebar comes from a site at Oaxaca, Mexico, and the interesting part is that I once had a nightmare where I saw a mask exactly like this one, glowing darkly in a dim basement repository of ancient art. It frightened me but I felt drawn to it just the same, and I never forgot the image: I must have seen it at a museum once, or in a book. What an amazing display of contrasts - how terrifying rituals of sacrifice co-existed with one of the ancient world's most advanced cultures.
It still haunts me to this day, but then I think
skulls
are pretty cool.
---
The New Look
Here is the newly-redesigned template, hot off
Dreamweaver
! I think I will continue to make some alterations, probably playing a bit with color and layout. I'll know when it's done, I think.
---
Excuse Us While We Remodel
If "farkleberries" looks a little different this morning, it's because we've been having some trouble with the Blogger template publishing - the code that makes the page look the way it does.
Apparently the code was getting a little too elephantine to load smoothly, so a lot of visitors (including myself) were having problems seeing the page at all. What I'm doing is rebuilding the code from scratch, so by Monday keep your eyes peeled for a leaner, meaner and better-looking
farkleberries
format.
Thanks for your patience! Hey, I miss the purple background too.
Kinda feels
naked
, eh? You could say I'm giving up sidebars for Lent...(smile)
---
Wednesday, April 16, 2003
Praise The Lord and Pass the Alka-Seltzer
It's amazing we survived this sort of cuisine when we were kids; but it sure raised a great generation, cholesterol be damned. In the irreverent spirit of James Lileks'
Gallery of Regrettable Food
, here is
Family Indigestion
- more recipes featuring semi-edible substances we'd be hard-pressed to call 'food'! My favorite section is the
Trailer Trash Iron Chef
party concept...I have a few recipes I'd love to compete with, like this one I call the...
Beanie Weenie Spamburrito!
4 large flour tortillas, warmed slightly
1 - 16 oz. can pork and beans
1 can SPAM(TM), julienn...ahem...sliced. We don't use them French terms in our kitchen no more.
1 can vienna sausage, or Mississippi Smoked Sausage, which is far more patriotic
Velveeta(TM), or shredded cheddar if desired
On each tortilla, spread one-fourth of the pork and beans, two links sausage, and some SPAM pieces. Then, lay on some Velveeta slices, or cheddar cheese if you're feeling upper-crusty. Fold up the tortilla so none of the insides are leaking out, and microwave for two minutes, or until the cheese is melted and the meat is heated through.
Yes, it's edible. And actually quite good, with an ice-cold
Blue Ribbon
or
Hamm's
to wash it down, and you're not repressing as many migrant tomato pickers as if you went to Taco Bell(TM). Heck, there isn't a vegetable within hollerin' distance here.
If you'd like to check out more of our kitchen-tested recipes (none of which are like this one, I promise), be sure to check out
My God, It's Full of Squirrels!
---
Tuesday, April 15, 2003
Review: The Book of Skulls by Robert Silverberg (1972)
Silverberg had always struck me as one of science fiction's more confounding writers: I've tended to get riled by some of his issue-ridden subtexts, while simultaneously reveling in his poetic examination of the clash between Apollonian philosophies and the baser drives of human nature. His 1972 classic,
The Book of Skulls
is precisely this kind of novel, though it's more a first-person tale of rigorous self-examination in a supernatural context, than a science fiction book
per se
.
Very much rooted in the hedonistic early 1970's milieu, the story is presented as a series of journal-like chapter entries told by each of four New York college boys embarking on a very unusual cross-country trip - in search of eternal life. One of the four, Eli, has 'discovered' a mysterious centuries-old text buried in the dusty bowels of Columbia University's library collection. The Latin translation of the text we come to know as the
Liber Calvarium
- or the Book of Skulls - can be interpreted as a Mystery Tradition that proffers immortality to two of four individuals who embark on the journey. Four individuals must embark on the quest, knowing that two must die in the process - one must be sacrificed unwillingly, the other must commit suicide to fulfill the pact.
How exactly can you unify four people to work toward a single elusive goal when one of the "givens" is that only two will make it out alive? It's a gamble with the greatest of stakes: you will either live forever, or you will die prematurely. As the tale unfolds and the boys come closer to their destination, layers of questioning reveal each of the four's inner natures. Is the Book of Skulls real? Does the monastery exist? Do the Keepers exist? Is the Keepers' promise of life eternal real? And finally, is life
itself
real?
The four young men are as diametrically opposite as can be, almost allegorically representing the Elements. Studious, bookwormish (but neurotic) Eli comes across as a less libidinal (and almost humorless) Woody Allen type; filled with the uniquely dark East European Jewish view of life. WASP-ish, earthy Timothy comes from moneyed deep American roots that go back to the Mayflower, so to speak; and has wanted for little in his life. Blond, burly farmboy Oliver comes from humble Midwestern stock, but is fire-intense and very intelligent; he seeks to cure the pain of his mother's and father's early deaths by becoming a surgeon. Finally, there is Ned, a flightily-portrayed lapsed Boston Irish Catholic acolyte to the priesthood, who ultimately couldn't reconcile his same-sex desires with the vow of celibacy.
It almost sounds like a bad joke: what happens when you pack a spoiled rich boy, a homosexual, a farm boy and a Jew into a car and send them to the Arizona desert? An engrossing road-trip adventure - and one that only gets more interesting when they find the mysterious Keepers of the Skulls who dwell in a desert "monastery" near Phoenix. What the
Book of Skulls
succeeds so well at is examining the baroque intersections of social class, ethnicity, belief systems, physical appearance, and how our preconceptions of our fellow man can be ultimately deceiving.
To really enjoy
The Book of Skulls
in this decade, you need to set aside the novel's uncomfortable portrayal of women as nonentities, and gays as manipulative, unstable, troubled souls. Every female portrayed (with the sole exception of college girl Mickey Bernstein, with whom Eli has a brief fling) is a personality-less Stepford Wife whose sole purpose is to provide an outlet for "release." I know, it sounds horrible, but there isn't a single thoughful line spoken by a woman or girl in the book, and every description of a woman is couched as a function of her sexual attractiveness and capacity - or lack thereof. However, for the four protagonists, there is a wealth of character development and procedural insight I've rarely seen in a book this size.
Objectively, I can file away my objections under the 'personal and historical flaw' category; Silverberg is part of a different generation and it is clear from this novel he has some serious personal issues with both the female gender and homosexuality - he speak too ill of women, and dwells far too much on the details of certain episodes of the boys' sexual lives for that not to be the case. A person who hasn't thought long and hard on such matters wouldn't write so knowingly of that inner turmoil that Ned and Oliver suffer from, and the dysphoric undercurrents speak of a self-loathing of what I think may be the author's inner affectional longings.
At under 200 pages, The
Book of Skulls
is a dense, chewy and satisfying 'retro' read that calls for close attention to every word. I found myself reading many of the lines silently under my breath, amazed at the lyricism and potent truths that lay just under their surface. Think
Umberto-Eco-meets-Jack-Kerouac
. You won't find a glittering future of spaceships and time travel here, but if you seek high interpersonal drama and thoughtful characterization melded with supernatural philosophical mystery, this book is a must-read.
---
D. Gale Johnson, 1916-2003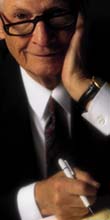 Sadly, we report the passing of
Professor D. Gale Johnson
, recently retired from the University of Chicago. One of the world's leading agricultural economists, Johnson published over 300 works in his lifetime, including many groundbreaking research pieces on China.
I had the previlege of crossing paths with him occasionally here in the Social Science Building halls. Many of us here at the Economics department attended his retirement party; he had been in declining health recently, and a colleague read his going-away address to the gathered crowd.
To the Economics Faculty and Staff:

It is with the greatest sadness that I write to inform you that our colleague D. Gale Johnson passed away at 8:45 p.m. last night in Amherst, MA. D. Gale was a remarkable man, a remarkable economist, and one of the very great citizens of our university. We will all miss him very much. Further information will follow as it becomes available.

Sincerely,
Hugo F. Sonnenschein, Chair
Department of Economics
Farewell to D. Gale Johnson, whose research fostered a greater understanding of the earth and the machineries of her commerce we depend on so greatly, and of the people around the world who nourish us all with their labor.
---
Friday, April 11, 2003
Liver, Squash and Peanut Butter for the American Way!
If you think our government's propaganda is bad now - don't forget the hooey we were made to swallow back during World War II when we were simpler, more innocent, and bereft of the Web: from
Cornell University's rare documents collection
, a little factory lunchroom poster called
Worker: Are You Helping Hitler?
that plays on the common man's worst fears -
Nazis, unemployment, and constipation
. Not necessarily in that order.
It's not that there's anything wrong with good nutrition; we hear that drum beaten every day. It's the insinuation that everyone from foreign baddies to hefty cigar-smoking bosses (not to mention the Little Woman back home) will crush you if you let that fellow riveter have a sip of your milk.
You need the protein more than
he
does, bub! The war'll be over sometime. Who's gonna be on the breadline
then
?
Skinny, constipated little traitors like you, that's who!
Thanks to fellow Chicago blogger
KipLOG's FoodBLOG!
Yummy site...
---
Friday Five Time!
1. What was the first band you saw in concert?
You know, I don't honestly remember. I can tell you who I
have
seen in concert (in no particular order):
Beatlemania
,
Peter Paul and Mary
(2 times),
Joan Jett and The Blackhearts
,
Joan Osborne
,
Tori Amos
(3 times),
The Tragically Hip
(2 times),
Ferron
,
Crash Test Dummies
,
Barenaked Ladies
,
Love and Rockets
,
Melissa Etheridge
,
The Wallflowers
,
The Pixies
...I'm sure there were more over the years; I just can't remember right now. Weren't the 90's
great?
I can tell you who I
wish
I'd seen (when they were still active)...the
Beatles
,
Ultravox
(pre-1985),
Blondie
(the late 70's era), the
Ramones
, the
Runaways
,
Bauhaus
,
Kraftwerk
, the
Grateful Dead
,
Bram Tchaikovsky
,
The Spoons
,
The Box
(Canadian), vintage
Bob Dylan
(late 60's), the
Supremes
...the list goes on....and on.
2. Who is your favorite artist/band now?
I can't say I have a "favorite band" - like many different kinds of music.
3. What's your favorite song?
Whatever's circling around in my head at any given moment.
4. If you could play any instrument, what would it be?
Piano or guitar.
5. If you could meet any musical icon (past or present), who would it be and why?
Hmmm...I think
Johann Sebastian Bach
would be interesting; but I don't speak his language, and he probably spent too much time in Church. Maybe
Wendy Carlos
, or
Midge Ure
,
John Lennon
, or
Laraaji
. Heck, even
Hildegard von Bingen
, for that matter.
---
Thursday, April 10, 2003
Somehow, This Pales in Comparison to the Smoking Ban
New York City has taken
a bold step
in improving
subway turnstile hygiene
: by replacing old-fashioned subway tokens with the new higher-tech fare card, the city hopes to eliminate the disgusting, inconvenient and disease-spreading practice of
token sucking
.
Now, if they could just get rid of the muggers in Central Park.
---
There's SARS in Burlington, Vermont, Dude
It appears the mystery bug called SARS has surfaced in the placid citylet of Burlington, Vermont - we used to live in its vicinity back East, and because it was the largest town between Albany, NY and Montreal, it was a mecca for us wanna-be urbanites. Burlington was the only place around you could go to a good Asian restaurant, see a classical or big-name concert, or buy ethnic groceries.
Somehow, I wouldn't be
too
reassured by this comment from the state's health commissioner in reponse to the appearance of two SARS cases:
"Certainly, there's no reason to freak out," said Vermont Health Commissioner Dr. Paul Jarris. "They shouldn't be overly-concerned. This is an evolving thing. We don't know what the bug is yet, but it appears it takes close contact with somebody. And that could be contact such as: they coughed on you, they sneezed on you. But just walking down the street, you're not going to have a problem."
"Don't tell me whether I should like, freak out or not. Like, what if they, like,
cough on me
, or
sneeze on me
while I'm like, walking down the street, dude?"
---
Kids These Days, Part 1
If you want any further proof that computers should be kept out of the hands of minors -
period
- look no further than this "tweener" group school blog I found by accident called
Toxic
(I'm not including their URL because these little hackers will probably 5PrayCaN
farkleberries
):
the [name deleted] and [name deleted] no need to do what... i ask [name deleted]... AHHH!!! I DUN WANNA DO [name deleted]!!! [name deleted] SUX!!!! #
( 10:34 AM ) [name deleted] i use dare dream and devil for topic, so if it turns out like sh*t, dont blame me....im beta at dissing freestyle #
( 10:32 AM ) [name deleted] eh i chit chat with [name deleted] for 15 mins leh.....eeyer.....btw [name deleted], first verse completed.....thinkin hard for the hook #
( 12:37 AM ) [name deleted] YES I GOT CALLED BY [name deleted] AND [name deleted] *shudders* and YES we have to do 2 [name deleted]s. DAMNDAMNDAMn #
( 9:56 PM ) [name deleted] yea man! the world rules! [for once]man..picking up the phone n hearing [name deleted]'s voice is creEpy.bet everyone got called by [name deleted] too #
( 12:23 PM ) [name deleted] the pro gal here who watched footie last night. Madrid VS Man u yeah. Slept sooo late now then wake up. 12oclock plus [name deleted]. mwahahahars Homework!! *pulls out hair* #
Actually, I'm
alpha at dissing freestyle
, which is why this conversational thread makes no sense to me. After doing a little research, I found out it's actually a group blog from an English School in Singapore.
Parents, this is what your kids are probably doing online when they tell you they're "researching a term paper". But it could be worse. They could be chatting with Pee Wee Herman.
More fun and useful: the
Faerie Name Generator
: mine is
Tarlenan BlueEyes of the Dark Glade
, quite nice, I think, rather Gaimanesque. That's when I choose the "female" generator option.
However, If I choose the "male" version of the name, it returns the rather shameful and callipygian
Dandulda SnowBottom of the Muddled Farm
.
Eeech.
---
Wednesday, April 09, 2003
A Big One from the Spambox
Recently I spouted off about a
ridiculous spam e-mail
I received promising "doctor-recommended permanent larger erections," among other benefits. Oddly enough, a few days after I made that post, I began to receive the
exact same spam message
(each time from a slightly altered bogus sender address) about
ten to twelve times
per day, filtered directly into my
Junk
folder.
I found that a strange coincidence.
Well, it seems the Penis Enlargement Crew has gotten more creative, since the simple four-line text message didn't garner any click-throughs from my e-mail address. Nonetheless, I won't give them the satisfaction of an "unsubscribe me" message, which would no doubt siphon a thousand other useless pieces of electron waste in my direction.
Now they've begun sending a spam message with - yes, gasp -
"actual unretouched before-and-after photos"
of the results! For obvious reasons, I won't include the pictures, but those entrepreneurial spammers should realize any 10-year old with Adobe Photoshop(TM) (or even MS Paint for that matter) can doctor an image of a miniscule male member to look like a donkey's d...I mean,
apparatus
(or was that
Milton Berle
? I've heard the "Hollywood Babylon" rumors).
Pretty silly stuff, if you ask me.
Anyway, I suppose the universe is essentially fair, since I don't seem to see too many breast enlargement ads around anymore; either in the Spambox, or anywhere else for that matter. Could it be that emaciated supermodel heroin chic has
finally
caught on, and a woman can finally feel adequate with less-than-spectacular mammary endowments? Could be, at least in above-ground culture; I'm sure the SuperJugs Cult still thrives among the backroom webcam video viewer set and elsewhere. Like Cosmopolitan magazine.
I can rest easy now, knowing that somewhere in the world
a man
is probably receiving tons of spam telling him he can enlarge his bust size up to 300% safely, without hormones, pills, messy creams or boring exercises. Money back guaranteed.
Yes, the universe must surely be fair.
---
Wednesday's Child is Full of Whoa
I have to say,
McDonald's
Chicago-market TV spot for their
Filet-o-Fish
(TM) sandwich is one of the funniest ads I've seen in a long time: over a musical backdrop of John Denver's "Sunshine..." we see folks of various ethnicities dressed in parkas trying unsuccessfully to ice-fish on Lake Michigan, with the Chi-town skyline in the background. Everybody's freezing their kiesters off, and the last unlucky soul in the ad falls face-down on the ice. The voiceover: "Want a better way to get fish in Chicago?" Never mind the fact it's spring - we've got the snow. Cruel, but hilarious.
This one's been around for a while, but it's still great for a last-minute office guffaw when you're in a sardonic and silly mood (yes, I know; how often do
those
two emotions coincide): the
Alanis Morissette Lyric Generator
on
Brunching Shuttlecocks
. If you liked
Mad Libs
(please tell me you
remember
Mad Libs - I'm not
that
old), you'll love it. Of the three song options provided, I think "Why?" seems to give the funniest results:
"Why"

In-boxes, downloads, computers
Why God, Why?
Downloads, Viagra, Spam
Why God, Why?

What have I done to deserve this tan horror?
Surrounded on all sides with the Hell of Spam
Like a Bill Gates character, I'm wordy and alone
Why God, Why?

Extra inches and hardness, in-boxes, great deals
Why God, Why?
Spam, great deals, computers
Why God, Why?

What have I done to deserve this tan disaster that is my life?
Surrounded on all sides with the Hell of Spam
Like a Bill Gates character, I'm wordy and alone
Why God, Why?

What have I done to deserve this tan misery?
Surrounded on all sides with the Hell of Spam
Like a Bill Gates character, I'm wordy and alone
Why God, Why?

Why God, Why?
Why God, Why?
Why God, Why?
Why God, Why?
OK, it's kind of dumb; but everything can't be symbolic logic and
pi
.
How's your geography? Here's a fun learning tool that'll help you separate the Omans from the Azerbaijans of the planet - the online
Middle East Geography test
. Just click on the name of a country, and drag it to the appropriate spot on the unlabeled map. Give it a shot - we'll be hearing from that part of the world for a long time to come. Thanks for that one,
snazzykat!
---
Tuesday, April 08, 2003
This-or-That Tuesday!
The
Who is
Edition:
1. Sexier (female)...Pamela Anderson or Jennifer Garner?
Pamela Anderson is not sexy, she's
trashy
.
bzzzz.
The answer is: Jennifer Garner!
(canned applause)
2. Sexier (male)...Ben Affleck or Matt Damon?
You mean they're not the
same guy
??
Damn.
All this time I thought they were.
3. The better piano player...Billy Joel or Elton John?
Elton John...he's got panache, but Billy Joel's new material just isn't all that;
Movin' Out
- case in point. But I'll concede that Billy's the better singer of the two.
4. Funnier...David Letterman or Craig Kilborn?
Honey, I
do not
stay up that late.
5. The dumber cartoon cat...Stimpy (of *Ren & Stimpy*) or Tom (of *Tom & Jerry*)?
Tom, by far.
6. A better news anchor...Tom Brokaw or Dan Rather?
"Who's down in Iraq? Who's under attack?
Tom Bro-kaw! Tom Bro-kaw!
"
7. A better TV chef...Emeril Lagasse or Jacques Pepin?
I can
digest
what Emeril cooks.
8. The trashier talk show host...Maury Povich or Jerry Springer?
See question Number Two.
9. The worse fast food burger joint...McDonald's or Burger King?
Mickey D. should stand for
Mickey Death.
Can you say
LDL's?
10. Thought-provoking question of the week: Only a handful of U.S. Presidents have been considered to be *great* Of the following two, which one do you consider to be greater...Franklin D. Roosevelt or Abraham Lincoln? Why?
I live in Illinois, the
Land of Lincoln.
I don't see any U.S. state being called
Land of Roosevelt
.
---
Monday, April 07, 2003
One Second in War Echoes for a Decade
Here's a little something I wanted to pass on from
James Lileks' Bleat
, which has transmuted recently into a rather sane, pointed and thoughtful warblog:
On showing the carnage of war on television: "One shell, four men, eight parents, 20 siblings, a hundred friends, a thousand details lost for good. One second in war echoes for a decade. Show the carnage. Rope it off, show it in the late-night hours when the kids are in bed, but show it. I feel the same way about the 9/11 footage. Show it. Don't presume we can't take it or must be shielded, like children, from the truth of the thing we have unleashed. I'm not suggesting that the news should be nothing but Death on Parade, or linger with unwholesome glee on the injuries done to our soldiers or theirs. But you cannot edit death out of war; to do so defames those [who] experience it. How can we understand the soldiers who return home without understanding not just what they saw, but what they did?"
Otherwise, as Lileks points out, the war in Iraq risks becoming a bloodless "video-game" war to those of us on this side of the desert without family, neighbors or friends in battle.
Only, there's no "restart game" button.
---
What Month Is This, Anyway? Or, It Ain't a Blog 'Til You Talk About Your Cat
This morning I awoke to the sounds of wet, slushy tire treads on pavement and honking horns: the promised 3-5 inches of snowfall arrived overnight, snarling up the already dreadful Sheridan Road Sewer Project traffic. This wasn't just
any
snow; it's the sodden, heavy, sticky and slippery kind that sticks to your shoes and windshield wipers like mud, and slides like Crisco under your boots and tires.
Eecch.
Snow can sometimes be a
non-Newtonian fluid
, or at least the inverse of one - think of sand on a beach, soaked with water. The consistency is almost like muddy liquid. Push down on it, and suddenly it seems to solidify into a packed mass. Well, this morning's snow was the opposite...it was a solid on almost everything when you try to remove it, but when you apply pressure, as with your foot -
squish! Like buttah!
Adding insult to injury - it was completely dark when the alarm went off next to my bed, thanks to the modern miracle of Daylight Saving Time.
No, this can't be real. It can't be time to get up yet.
Oh, yes it is,
bucko
. Wake up and smell the (
litterbox
) coffee. Anyway, our cat Nathaniel knows what time it is. It's
play-with-me-feed-me-I-don't-care-that-it's-6:00-in-the-morning time
.
Rrrrowr!
He's a 13-pound black cat, 12-to-14-years old, very interactive talker with huge teeth and an unusual diamond-shaped head that makes him look like a small black panther; he's a curmudgeon among cats. The paperwork at the
Harmony House
shelter said he's a domestic shorthair, but the brownish cast in his fur and his especially varied vocalizing have me convinced he's a defrocked Burmese.
Then, the drivers on the LSD (Lake Shore Drive, to you and me) are p*ssed off about the weather and are speeding far past the reasonable-speed limit for the lubed-up pavement; the radio traffic report says "snow emergency contingencies are in effect," which includes the rule that if you're in a fenderbender and your car is still operable, you have official permission to drive it (out of the) away and file your report later. That's because in a city the size of Chicago, if everybody stopped for every bumpertap on a day like this, the roads would come to a complete bottlenecked standstill.
Are you sure this isn't Mother Nature's little April Fool's Day joke?
---
Saturday, April 05, 2003
An Unlikely Story from Utah
This is
a news development I certainly didn't expect from the state of Utah
: the traditionally conservative state's Supreme Court left it up to educational officials at Spanish Fork High School whether they want to fire 20-year veteran, award-winning teacher Wendy (Chandler) Weaver.
Why would they want to fire a teacher with such good recommendations?
Because Chandler took the very risky step of coming out to her students as a lesbian in 1997. Mind you, this is six years ago, so she's had to deal with a hostile school board, indignant parents and all sorts of pressure for that period of time - yet she's still teaching at Spanish Fork High, a very conservative Mormon part of the state, and she hasn't moved on to another part of the country to keep the peace. That, to me, takes a lot of guts.
From CNN:
"She disclosed her sexuality when asked by curious students in 1997. Shortly thereafter, the high school barred her from talking about her sexuality, and Weaver later won a federal lawsuit against the Nebo School District for that requirement.

Parents and students tried to remove Weaver by complaining to the local school board, but the district did not fire the award-winning, 20-year teacher.

They then pursued the case in the state's 4th District Court, but Judge Ray Harding Jr. dismissed the lawsuit in 1999. Those seeking to oust Weaver then sought a declaration from the state Supreme Court saying she was unfit to teach. The declaration would have forced the school board to dismiss Weaver, attorney Matthew Hilton told the Supreme Court in October.

The court declined, saying Weaver's opponents "lack a legally protectible interest in this controversy."
This doesn't seem like big news compared to the war in Iraq, SARS, and big-city news in general, but sometimes you have to take news in context. This is, after all, the state of Utah, and in the more conservative parts of the U.S., this is a major development; it made the
Kansas City Star's
"Breaking News" coverage.
Wendy Chandler told the Associated Press Friday:
"What they were going after was not really within their right as citizens to do," Weaver said of her critics. "I also believe that they're scared to have their kids see someone who is gay but who functions and is happy and they like. That doesn't go with their perception that gay people are evil or unhealthy." [Chandler], a 1979 Brigham Young University graduate, continues to teach at the school because her ex-husband, children and partner's children live nearby.
However, the story isn't over yet. We don't know if the Nebo, Utah school board will decide whether to fire Chandler, now that the state's highest court has put the decision in their hands. What's important is that her story is similar to so many others of that type that don't get major news coverage: if Spanish Fork does decide to give her her walking papers, at least the world will know about that injustice. It's still happening in our country, despite periodic piecemeal advances in gay and lesbian rights.
If she does get fired, the world will know there's a 20-year veteran teacher with an excellent record out there - that should get hired immediately by a school district with a more contemporary frame of mind.
---
Friday, April 04, 2003
Friday Five Time!
1. How many houses/apartments have you lived in throughout your life?
Twelve. That makes an average of 2.9 years at each location, but when you consider that I lived in one apartment in Trenton, New Jersey for 12 years that throws off the math a bit. Some the other places? Brno, Czech Republic; Vienna, Austria, Manhattan, the towns of Constable, Bombay and North Bangor, New York - and let's not forget Plattsburgh, NY - and now, Chi-town.
2. Which was your favorite and why?
Probably that old house on Lynwood Avenue in Trenton...that's where most of my childhood memories come from, and I still have dreams that involve that house - although the house looks less and less like the original in my dreams...sort of
dream-drift
.
3. Do you find moving house more exciting or stressful? Why
? It's about 33% exciting and 66% pain in the tush. I hate boxing, packing, sorting, cleaning, etc. My last move, we had movers, thank heavens. I think I like moving less the older I get.
4. What's more important, location or price?
Like they say, it's location, location, location...until your rent gets raised!
5. What features does your dream house have (pool, spa bath, big yard, etc.)?
Quiet, comfort, maybe stone walls or it's partially underground. Or at least a solid, clean dry basement with a wine-and-root-vegetable cellar.
I'm an
Earth sign
, you know ;)
---
Thursday, April 03, 2003
DSEA = Dastardly Spy-Enabling Act
About I month ago I posted about John Ashcroft's radical proposed
Domestic Security Enhancement Act
, also known as Patriot Act II - well, it's one step closer to reality. According to
AlterNet
, the details of the sweeping set of nullifications to many of America's treasured liberties are chilling:
The government would be instructed to build a mammoth database of citizen DNA information, aimed at "detecting, investigating, prosecuting, preventing or responding to terrorist activities." Samples could be collected without a court order; one need only be suspected of wrongdoing by a law enforcement officer. Those refusing the cheek-swab could be fined $200,000 and jailed for a year.
Legal permanent residents could be deported instantaneously, without a criminal charge or even evidence, if the Attorney General considers them a threat to national security. If they commit minor, non-terrorist offenses, they can still be booted out, without so much as a day in court, because the law would exempt habeas corpus review in some cases.
Authorities could wiretap anybody for 15 days, and snoop on anyone's Internet usage (including chat and email), all without obtaining a warrant.
The death penalty would be expanded to cover 15 new offenses.
Americans could have their citizenship revoked, if found to have contributed "material support" to organizations deemed by the government, even retroactively, to be "terrorist."
So, what recourse does the average joe like you and me have? I urge you to read the fine print and learn more about this frightening piece of legislation from:
The full
87-page draft of the DSEA
is available here courtesy of the Center for Public Integrity.
I don't know about you, folks, but the
DSEA
just isn't American, by any stretch of the imagination.
---
And Now, A Word From Helena Handbasket
I thought I'd take this opportunity to introduce a good friend who will occasionally post a blog in my absence...the illustrious, groovy, downright splendid soul sista
Helena Handbasket
. She's an old-fashioned no-nonsense kind of gal who speaks her mind on the issues that really matter - war, peace, love, freedom, and liberty. See, I told you she was
old-fashioned
. Take it away, Helena...
"I don't know about you, but maan, the world is getting to be one crazy place these days. And I don't just mean this war business in Iraq, and the fact North Korea is going to pull out of the nulcear nonproliferation treaty and that jazz. Not even those anti-war protests like that huge one we had here in Chicago. Far out. We're talking about the Bomb and we're marching on the streets - this is like 1970 all over again!

I mean some seriously weird sh** is going on. Like that giant sea-monster squid they found in the deep sea near Antarctica with eyes the size of saucers! I kid you not. I mean, this thing is bigger than the squid in Jules Verne's 20,000 Leagues Under The Sea. Just unnatural, I tell you. Don't get me wrong, I love squid as much as the next person. I love that sunsai tako salad they've got at Green Tea down on Clark and Webster..mm, mm, mm. Little chewy pieces of squid in a sweet and sour dressing with sesame seeds. That is good.

Don't even get me started about that super-flu bug that's going around, you know the one, SARS? I mean, living in Chicago, with the world's businest airport and all these people coming through - I'm gonna have to start wearing one of them white surgical masks, like Michael Jackson. Just like Mama said in Cheap Trick's Surrender, "you never know what you'll catch."

But you know what really tips me off that these are some seriously wierd-ass times we're living in? It's that invisibility coat that those Japanese invented - I mean, it's not really invisible, you can tell that guy's just wearing a coat with some fancy gadgetry...but some things you should just not mess with. If Mother Nature wanted humankind to be invisible, she would have made us all transparent like jellyfish, you know what I mean?"
---
Wednesday, April 02, 2003
So, What Else Is New
My old friend (we go back about about 30 years, believe it or not!) Evelyn sent me this link, to
Spark.com's Gender Test
, which claims to be able to predict your gender with 80% accuracy. Wanna know how I scored?
I am...
definitely a dude
, according to the test, or at least fall absolutely smack dab in the middle of the gender scale. I mean, really - in the 50th percentile. Why do you think this page is
purple
?
This will surprise
no one
who knows me...and make buying Christmas presents very easy. Plus, when the "Ladies" one-seater bathrooms in service stations are occupied, I have no problem going in the other one...being a psychological hermaphrodite has definite advantages.
---
Devil On The Midway
I've known Chicago has a strange and fascinating history, but Erik Larson's
new book
,
"Devil in The White City"
sheds light on a little known feature of the
1893 Columbian Exposition
(which happened a little over a century ago outside my office window, at the midway where the University of Chicago now stands) - it was home base for one H.H. Holmes (real name Herman Webster Mudgett), a physician who historians say was America's first urban serial killer. Holmes allegedly used the fair to lure unsuspecting victims to his nearby "killing house," complete with gas chamber, acid bath, and industrial oven for disposing of what some sources claim were dozens of victims.
What I find really interesting is that the Columbian Exposition basically hailed the advent of modern American technology and convenience - and oddly enough, along with it came the phenomenon of the 20th Century Monster - the serial killer.
"The fair was the first mass demonstration of electrical lighting and alternating current," Larson says. "Kodak photography first became popular there, so did motion pictures, cold breakfast cereals, pancake mix, zippers ... the list goes on and on."

In its bid for the fair, Chicago had to beat out strong competition from Philadelphia, St. Louis and particularly New York City. Once that uphill fight was won, the organizers had to battle time and nature to build their White City on the swampy shore of Lake Michigan.
How did Holmes get away with it? You have to remember it was much easier to "disappear" in those days when telephone communication wasn't common at all, travel took weeks or months, and nobody had ATM or ID cards or Social Security numbers to track them as they moved about the country. Holmes was apparently never prosecuted for his Chicago killings, but was captured, tried and hanged for a Philadelphia murder in 1896.
an excerpt from the book:

"The Black City: how easy it was to disappear: A thousand trains a day entered or left Chicago. Many of these trains brought single young women who had never even seen a city but now hoped to make one of the biggest and toughest their home...in an analogy that would prove all too apt, Max Weber likened the city to "a human being with his skin removed."

Anonymous death came early and often. Each of the thousand trains that entered and left the city did so at grade level. You could step from a curb and be killed by the Chicago Limited. Every day on average two people were destroyed at the city's rail crossings. Their injuries were grotesque. Pedestrians retrieved severed heads. There were other hazards. Streetcars fell from drawbridges. Horses bolted and dragged carriages into crowds. Fires took a dozen lives a day. In describing the fire dead, the term the newspapers most liked to use was "roasted." There was diphtheria, typhus, cholera, influenza. And there was murder. In the time of the fair the rate at which men and women killed each other rose sharply throughout the nation but especially in Chicago, where police found themselves without the manpower or expertise to manage the volume. In the first six months of 1892 the city experienced nearly eight hundred homicides. Four a day. Most were prosaic, arising from robbery, argument, or sexual jealousy. Men shot women, women shot men, and children shot each other by accident. But all this could be understood. Nothing like the Whitechapel killings had occurred. Jack the Ripper's five-murder spree in 1888 had defied explanation and captivated readers throughout America, who believed such a thing could not happen in their own hometowns.

But things were changing. Everywhere one looked the boundary between the moral and the wicked seemed to be degrading. Elizabeth Cady Stanton argued in favor of divorce. Clarence Darrow advocated free love. A young woman named Borden killed her parents. And in Chicago a young handsome doctor stepped from a train, his surgical valise in hand. He entered a world of clamor, smoke, and steam, refulgent with the scents of murdered cattle and pigs. He found it to his liking. The letters came later, from the Cigrands, Williamses, Smythes, and untold others, addressed to that strange gloomy castle at Sixty-third and Wallace, pleading for the whereabouts of daughters and daughters' children.

It was so easy to disappear, so easy to deny knowledge, so very easy in the smoke and din to mask that something dark had taken root.

This was Chicago, on the eve of the greatest fair in history." --- Erik Larson
By the way, www.crimelibrary.com has as
a good feature on the heinous Dr. Holmes
. Oooh. I should make this my next "subway book." Then again, we've got things like
meteorites falling through suburban Chicago roofs
, like last Sunday.
---
Tuesday, April 01, 2003
Oh, The Horror Of It All - and the "Fog of War"
Before I get into my daily dose of war-rant, let me tell you about a little old paperback pulp mystery collection I found in my apartment's laundry room this morning, free for the taking - "
The Baby In The Icebox and other short fiction
," by Jim Cain, author of the steamy, seamy "
The Postman Always Rings Twice
." The title is just twisted enough that it should deter any unwanted stranger conversations or panhandling on the subway. "Have I got a quarter? Are you kidding, I'm reading
The Baby In The Icebox!
" I have no idea if it's even worth reading, but the cover was worth every penny. I'll let you know after tonight's train ride.
Talk about a wartime dilemma that's sure to keep game-theory dilettantes up at night:
coalition forces near Najaf fire at a van
that refused to stop at a military checkpoint despite repeated requests - and warning shots. At least seven women and children are killed. I'm having a hard time getting the incident out of my mind, because it seems like it was a needlessly tragic, no-win situation for all involved. But I'm also trying to put myself in the position of the coalition forces faced with this strange and potentially dangerous scenario.
First, now that some of the Iraqi troops have taken to "dirty tactics" like fake surrenders and suicide bombings, I think the soldiers at the checkpoint were justified in firing at the van if the events truly happened as described: the driver was waved to stop repeatedly and refused, warning shots were fired, and then a shot was fired at the van's radiator in an effort to halt the vehicle using nonlethal means. Some people have said, "But what about the language barrier? What if the driver didn't understand they were asking him to stop?" Somehow, I think that even if the driver didn't understand verbal or manual signals to stop, a warning shot across the bow might get the message across.
I think it's entirely possible that the van could have contained women and children as human shields to conceal something far more deadly within, like a car bomb. So: should coalition forces have refrained from shooting, and possibly been killed by a car bomb charging through the checkpoint - or should they have fired at the vehicle's interior, killing the occupants - or, another possibility, shot out the tires if possible? That would still be a gamble, because even if the van were stopped using nonlethal means it could still have been loaded with an explosive charge that could be detonated when the vehicle got close enough to the soldiers. From CNN:
Commenting on the incident early Tuesday, CENTCOM spokesman James Wilkinson told CNN that the newspaper account does not match the report from field commanders. "On the battle field we have this phenomenon called 'fog of war," he said. "We continue to see reports from embedded reporters that have discrepancies from our headquarter's reports. What I can tell you is that right now as we speak, we are working to reconcile this."

[Hmmm. Interesting. Reporters saying something different than the official military standpoint? I guess those reporters must be suffering from the "fog of war" delusion. After all, the military's never suppresses anything from the press, right?. - LR]

An Army medic was quoted in the Washington Post as saying, "It was the most horrible thing I've ever seen, and I hope I never see it again." Central Command said it appeared the proper rules of engagement were followed.
An incident like this highlights how often there are no simple choices in war. It's full-on battle now, and all bets are off - "fog of war" or not.
---