Tuesday, April 15, 2003
D. Gale Johnson, 1916-2003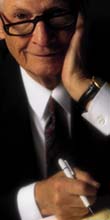 Sadly, we report the passing of
Professor D. Gale Johnson
, recently retired from the University of Chicago. One of the world's leading agricultural economists, Johnson published over 300 works in his lifetime, including many groundbreaking research pieces on China.
I had the previlege of crossing paths with him occasionally here in the Social Science Building halls. Many of us here at the Economics department attended his retirement party; he had been in declining health recently, and a colleague read his going-away address to the gathered crowd.
To the Economics Faculty and Staff:

It is with the greatest sadness that I write to inform you that our colleague D. Gale Johnson passed away at 8:45 p.m. last night in Amherst, MA. D. Gale was a remarkable man, a remarkable economist, and one of the very great citizens of our university. We will all miss him very much. Further information will follow as it becomes available.

Sincerely,
Hugo F. Sonnenschein, Chair
Department of Economics
Farewell to D. Gale Johnson, whose research fostered a greater understanding of the earth and the machineries of her commerce we depend on so greatly, and of the people around the world who nourish us all with their labor.
---